Wanaka House designed by Crosson Clarke Carnachan architects, which is built in Wanaka town in Otago, New Zealand. This single story house is located among green landscape. The structure of building is made to protect from wind coming from northwestern side. The house is beautiful and transparent as large glasses are used on three sides. Steel panels are used to separate the parts of house. Round sand stones are used as walls and have lawn with small pebbles to make different. Steel and plastic dining table with chair in decent color matching with color of walls and roof are placed as dinner table. Catchy and sober ceiling lights are added in the roof.
You can watch the whole view sitting inside of the house in three directions at a time. Pollution free atmosphere as weather contained less carbon and enjoy in this house away from city. The house has privacy from surrounding population, connected with road coming to its garage away from main house. This house is master piece of architecture and suitable place to sit in the sun at day time or enjoy fresh air at night. Wooden work has been carried out especially in drawing room or in the kitchen to make kitchen cabinet.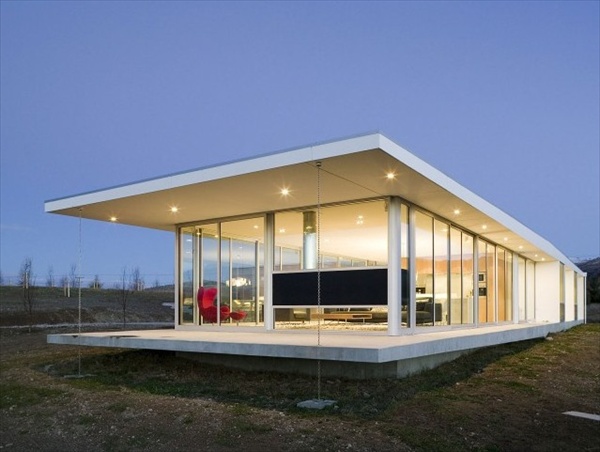 house designs new Zealand.